Page content
These include a goal of reducing total CO2 equivalent emissions by 25% per ton of product by 2030 and achieving net-zero carbon emissions by 2050. In 2020, we also set a goal of developing and prioritizing a list of viable greenhouse gas-reduction capital projects across our facilities and looked to our employees for help. In 2021, working groups at each manufacturing site identified over 400 different projects and set about assessing the economic and technical viability of each one. As the result of this process, we have identified a list of approximately 40 projects that provide a roadmap to achieve our decarbonization goals over time.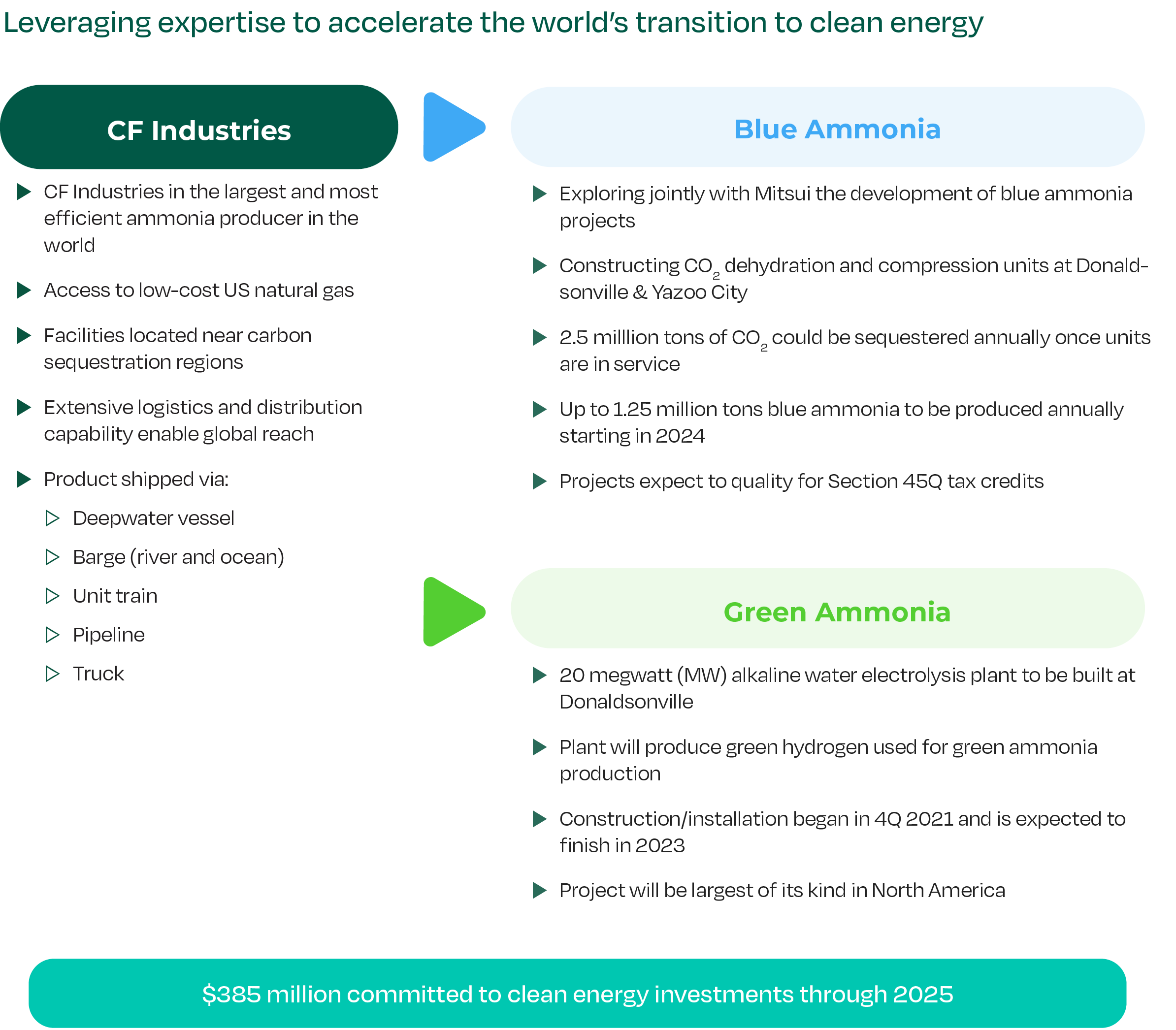 In line with this, we are pursuing two approaches — blue and green ammonia — to eliminate carbon emissions from ammonia production in order to provide customers product that they can use to decarbonize their own businesses. CF Industries is committed to spending $385 million through 2025 to enable the production of green and blue ammonia at its manufacturing network.
What We're Doing: Within Our Operations
The Haber-Bosch process that enables the production of ammonia is one of the transformative innovations of the twentieth century. Billions of lives have been made possible because ammonia and nitrogen fertilizers raise crop yields so that the world can feed a growing population and use less land to do it, preserving carbon-sequestering forests. Fertilizer is responsible for 50% of the world's food supply.

At the same time, Haber-Bosch is an energy-intensive process that results in carbon emissions when using fossil fuels as a feedstock. We actively manage our network to maximize efficiency and reduce our emissions intensity.
How We Maximize Efficiency and Reduce Emissions Intensity
Opportunities for Near-Term Progress
Roadmap to Decarbonization
In 2020, we established the goal of reducing our CO2e emissions intensity 25% by 2030, compared to a 2015 baseline. Our management approach has allowed us to achieve a 14% reduction through 2021 compared to the baseline. CF Industries expects to make substantial progress in the years ahead on our near-term emissions intensity goal through three Board-approved projects focused on both green ammonia and blue ammonia production.
Additionally, we developed a list of viable GHG Scope 1 emissions reduction capital projects in 2021. To develop this list, each manufacturing and distribution location set out to identify ideas for potential GHG reduction projects. These projects were then vetted to gauge feasibility across all our manufacturing facilities.
At a high level, the final list of projects can be placed into four categories:
1. N2O abatement on our nitric acid plants
2. Process CO2 capture and recovery
3. Capturing or absorbing flue gas
4. Additional energy efficiency projects
The identified projects will provide a roadmap to achieving our emissions intensity target in the near-term and our net zero carbon emissions target by 2050 over the longer-term.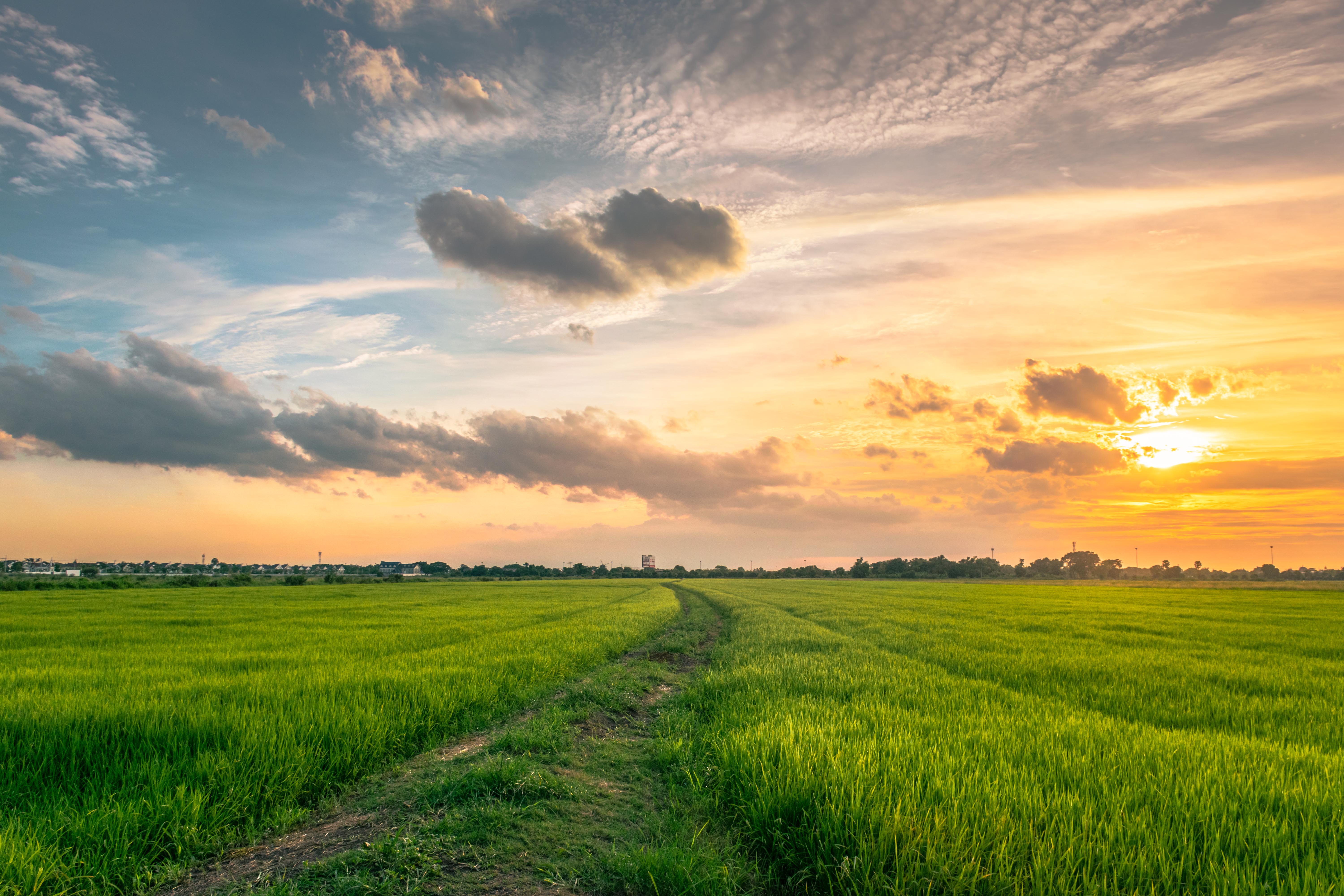 Types of Ammonia
Ammonia Production
CF Industries produces ammonia using the Haber-Bosch process, which combines nitrogen from the air with hydrogen.
01

Ammonia produced using natural gas as the source of hydrogen. Carbon dioxide emissions are a natural output of this chemical process.

02

Ammonia with CO2 removed through carbon capture and sequestration (CCS) and other certified carbon abatement projects.

03

Ammonia produced using hydrogen from carbon-free sources.
Outside of Our Operations
What We're Doing
CF Industries is also working beyond our operations to support lower emissions from industrial activities and to reduce externalities associated with the use of nitrogen fertilizers.
Our products are used by a variety of industries with selective catalytic reduction technology for emissions abatement. For example, ammonia is used in power plants to control nitrogen oxide (NOx) emissions. Additionally, we are the world's largest producer of diesel exhaust fluid (DEF), which is widely used by diesel truck fleets to reduce NOx emissions by up to 95%.
We also work to ensure the proper use of our products in agricultural production, which can help limit GHG emissions and nutrient runoff. See the Nutrient Stewardship section for more information.