Page content
At CF Industries, we know having a variety of perspectives, backgrounds, and experiences across our organization is critical to making the best possible decisions. We fully understand and embrace the fact that promoting ID&E is central to our continued success.
As such, we have long been committed to creating an inclusive, diverse, and equitable workplace where every employee is physically and emotionally safe, feels accepted and valued, and has an equal opportunity to be successful and do their best work.
You can read more about our commitments to ID&E below, but it is first important to understand some basics about the topic at hand.
How We Define Inclusion, Diversity & Equity
The CF Industries team continues making progress against the three key areas of our ID&E Strategy, which builds on our Core Values and is focused on three areas: Representation, Education and Skill Development, and Belonging. We are proud of the progress our team has made in each of these dimensions while still recognizing there is much work to be done.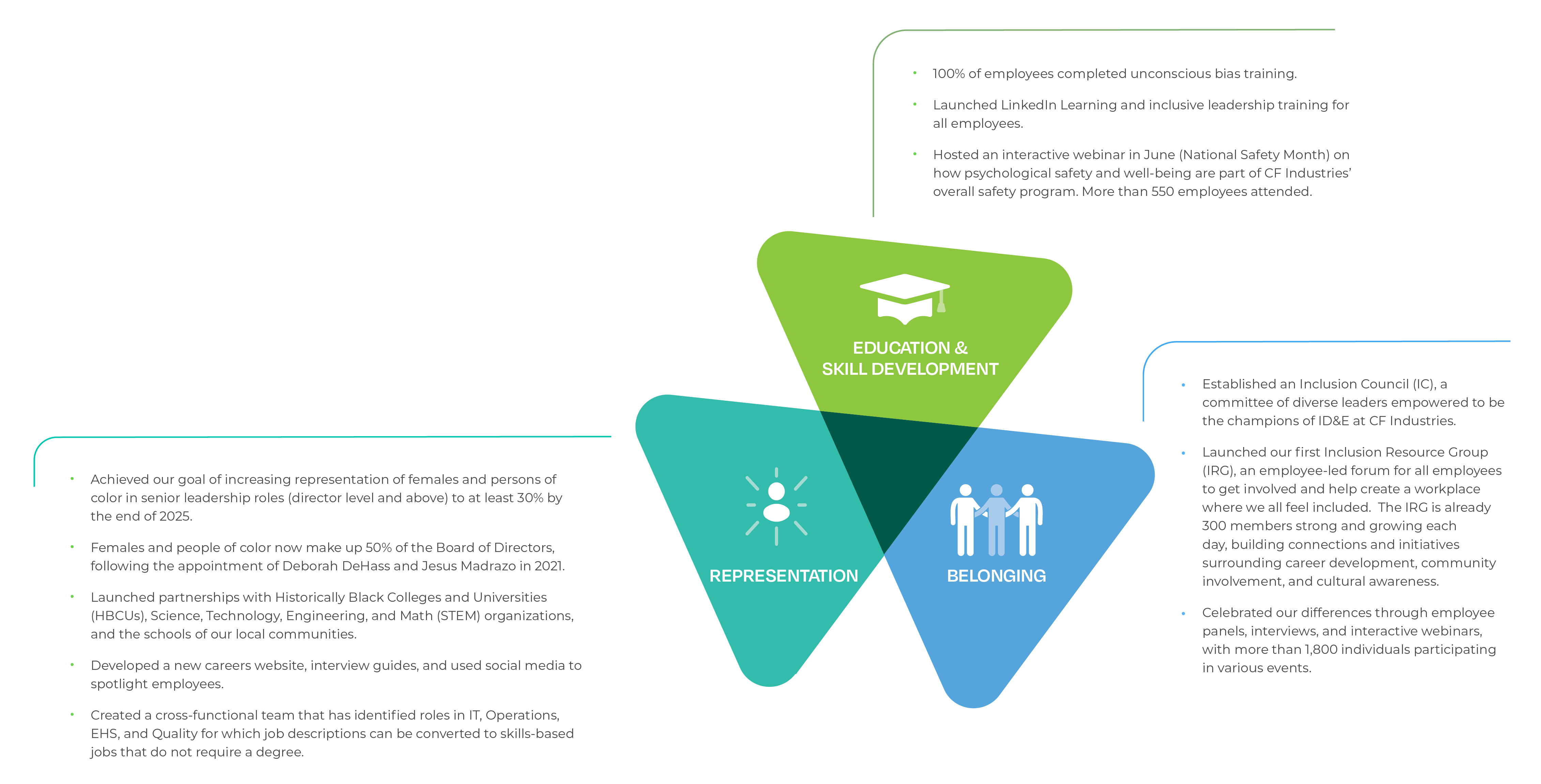 Multiple Pathways Initiative
In March 2021, we joined 80+ other companies in committing to the Multiple Pathways Initiative sponsored by the Business Roundtable. This initiative emphasizes skills for recruiting and talent development, above and beyond simple credentials, creating career pathways for traditionally underrepresented employee groups. For example, in 2021, we identified Enterprise Support Specialist, Field Safety Specialist and Lab/QC Technician as jobs that are based on skills and do not require a college degree. CF Industries currently offers over 45% of its workforce skill-based career pathway opportunities that pay on average $127,000 per year for a fully qualified operator. That percentage will increase with the inclusion of the three additional skill-based roles in 2022.