Page content
An EHS Steering Committee, comprised of the EHS Managers of our locations, sets specific Company EHS Standards and ensures business alignment, promoting shared practices and improving our EHS systems. Our EHS Councils create internal networking opportunities to share best practices and lessons learned and to review incident/near-miss data trends to identify improvement opportunities.
Our EHS management system engages people at every level of our organization, with the importance of EHS coming from the top of the Company and refined through constant communication with employees. This system starts with the establishment of corporate expectations and includes extensive competency training to equip our people with the skills necessary to perform their roles safely.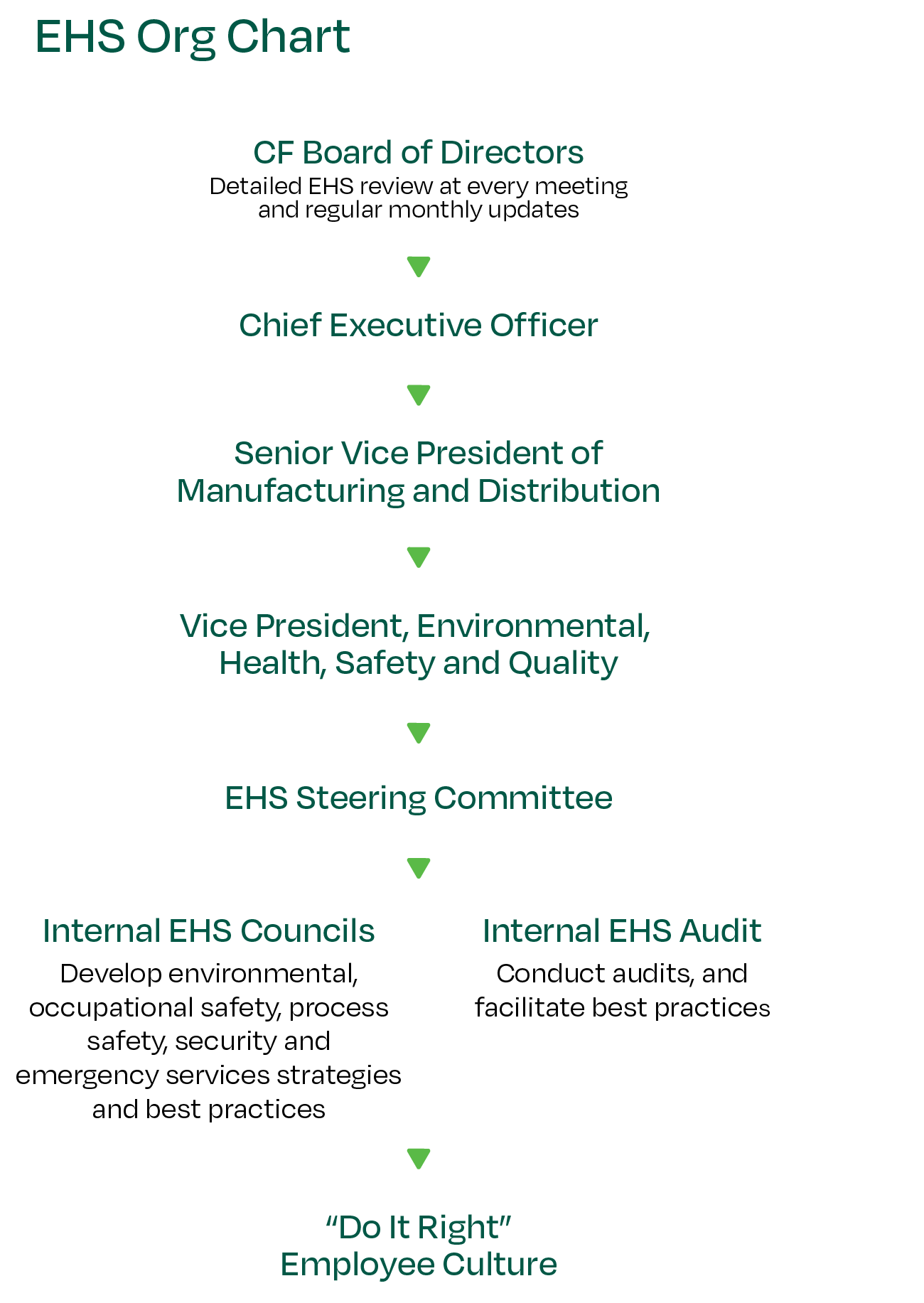 We conduct internal as well as third-party audits, such as the Occupational Safety and Health Administration's (OSHA) Voluntary Protection Programs (VPP) and Protect & Sustain by the International Fertilizer Association (IFA). Our internal audit program is risk-based and looks at regulatory requirements as well as conformance to internal standards, facilitating best practices across all CF Industries operations.
We measure and monitor our performance by using metrics that look at performance, process and engagement. Every two weeks, our location leaders meet to specifically discuss EHS performance, challenges and issues. Local teams regularly share suggestions and approaches to improve safety on these calls. When an EHS incident occurs, we investigate root causes and define a new standard procedure that we then roll out across all plants.
Through our 2020 employee engagement survey, we have also begun to expand the scope of our employee health and safety programs to now include mental health, fatigue, and other human factors. For a list of the policies and management of our workplace healthy and safety, please view our Task Force on Climate-related Financial Disclosures (TCFD), Global Reporting Initiative (GRI), and Sustainability Accounting Standards Board (SASB) disclosures at the end of this report.
During 2021, we tied the compensation of our executives to process safety as well as behavioral safety. See the Ethics & Governance section for more information. We have established three annual goals to strengthen and improve our commitment to safety excellence. We accomplished all three throughout 2021. These goals focused on proactive safety measures, behavioral safety practices, safety critical inspections, and managing change:
Have at least 95% of the aggregated behavioral safety grades of all employees at manufacturing and distribution sites be at 80% ("B") or better for the year
Completing safety critical equipment inspections on schedule
Ensuring management of changes in current year were closed within 90 days of pre-startup safety review